The Palace of Dreams - Now in Bookstores!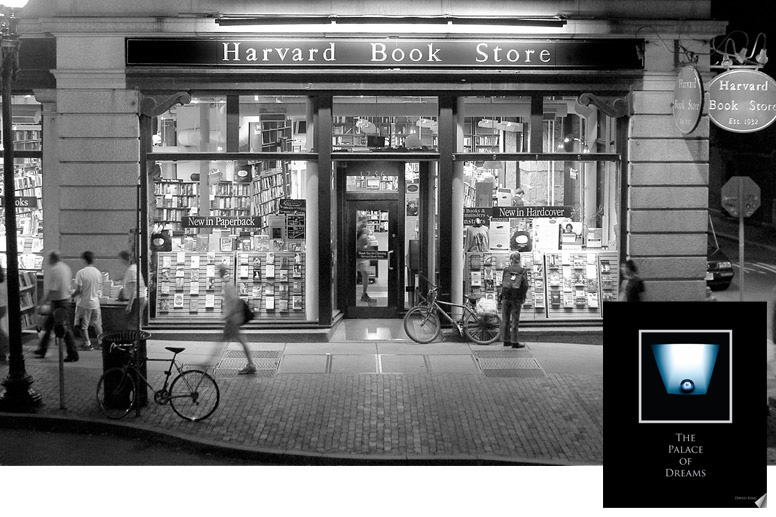 It's been a long labor of love, but the photo-novella The Palace of Dreams has finally made it out into the world! Many of you generously backed the Kickstarter campaign to get the Palace of Dreams published, and by now you have hopefully received your book in the mail. I couldn't be happier with how it turned out.
Now that the book is finally out in the world, I could really use your help to spread the word! Post it on your facebook wall, tweet it, email a link to this page to your friends, or just plain tell people about it! Part of the goal of this project was to make art accessible, so the beautiful cloth-bound hardcover sells for just $25. Perhaps the most exciting development is that three independent bookstores have started carrying the book: Harvard Book Store in Cambridge, Trident Booksellers in Boston, and Books & Books in Coral Gables.
Here's the thing about having a book in a bookstore: Unlike Amazon, which cares little about which of its books get clicked on and which don't, a brick and mortar bookstore can only afford to take up shelf space with books that sell. So if you live in Boston or Cambridge or Miami, and are thinking about picking up a copy of The Palace of Dreams, please take the time to visit whichever one of these beautiful bookstores is closest to you and purchase a copy. In fact, to sweeten the deal and give you even more incentive to support The Palace of Dreams and your local independent bookseller, I'm raffling off a signed and numbered, gallery-quality, 16x24 archival pigment ink print of the winner's choice, if you purchase a copy of The Palace of Dreams, in a store, between now and the end of April.
To enter to win the print, all you need to do is buy a copy of the book from one of the three bookstores mentioned above, and then send an email to raffle@blurrybike.com with the name of the bookstore and the date of your purchase, and you'll be automatically entered in the raffle. At the end of April, a computer program will choose a winner at random from the set of received emails, and I'll send the winner a print of their choosing from any of the images on the Blurry Bike website.
For those of you that don't live close enough to the bookstores mentioned above to pick up a copy in-store, you can of course pick up a copy on Amazon. It has already received one 5-star review, and I hope that you'll feel free to add your review as well.
Thanks again for your support,
Dave